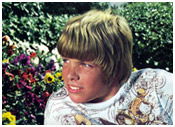 KENNY & COMPANY is a wild action/comic romp, which tells the story of three young boys and the trouble they get themselves into, and out of, in the days leading up to Halloween night.

Released in the US by 20th Century Fox, and a major hit in Japan for Toho-Towa, KENNY & COMPANY is a compassionate look at the vital, funny, and sometimes crazy process of growing up.

As the film was described by Daily Variety, "Modest in the best sense of the word, "KENNY & COMPANY" unfolds simply and enjoyably as a series of believable incidents in the lives of its young characters." To Kenny and his buddy, Doug, both on the threshold of their teen years, the world is an exciting place of endless possibilities and continual surprises, mostly pleasant, sometimes not so pleasant. But certainly action-packed. And problem-filled…vibrant with plans….occasionally secretive and fearful….but always alive with adventure and bubbling over with infectious humor. KENNY & COMPANY is an affectionate, funny look at this vital, sensitive, sometimes painful process filtered through the creative imagination of filmmaker Don Coscarelli, creator of PHANTASM, THE BEASTMASTER and BUBBA HO-TEP.